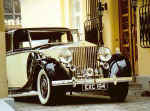 How can I join the Phantom III Technical Society?
The Phantom III Technical Society is not affiliated with any other club or organization and membership in one is not required to join the PIIITS. Dues for one calendar year are $40.00 to:
The Phantom III Technical Society
185 Wakeline Drive
Wendell, North Carolina 27591
USA
Please download and complete a Membership Application. Residents of the UK, Australia and New Zealand can pay dues in local currencies, others can pay in US funds. We accept most credit cards and PayPal although there is a 3% surcharge to cover processing costs. The application provides all of the details.
We look forward to hearing from you. If you have any other questions, please contact us.